Categories
Categories
Brands
Brands
---
Choose Your Options
Product Description
JBI Pro Perch 2.0
Designed for twin chamber spring forks

KYB AOS/SSS 48mm (Production & A Kit)
Showa Twin Chamber 48mm & 49mm (Production & A-Kit)
WP Closed Cartridge Bladder Fork 48mm
Sachs Closed Cartridge Fork 48mm

Exclusive pressure (speed) sensitive damping design

Improves fork bottoming control giving you confidence to go BIG
Enhances fork feel & plushness through out the entire stroke

Developed to improve suspension performance for MX, Off-Road, SX/AX, & WORCS riding/racing
Simple installation with factory level results

Replaces stock spring perch
Instructions & setup tips included

Sold as set, sold as pair, 2 pieces
Patent Pending
What is the JBI Pro Perch 2.0?
The JBI Pro Perch 2.0 is a high performance replacement spring perch for KYB, Showa, WP, and Sachs twin chamber (closed cartridge) spring forks.
What's new about the JBI Pro Perch 2.0?
Notable new JBI Pro Perch features are a refined body design, redesigned rebound return ports, sleeker shim retainers, and an endless bushing band. The updates and refinements to the proven and popular original JBI Pro Perch are results of continued product development and testing after its debut in 2014.
How Does the JBI Pro Perch 2.0 Work?
Unlike stock spring perches that feature "fixed" holes for oil to simply flow through, the JBI Pro Perch 2.0 is pressure sensitive meaning the port area (hole size) for fork oil to flow through is based on pressure. (Small pressure = small port area / High pressure = large port area). This "active" style of damping at the spring perch results in a fork that is plush on small bumps yet firm enough to soak up those hard hits & landings without being harsh.
JBI Pro Perch 2.0 Install Guide and Tech Specs
Click Here
***International Purchases & Info***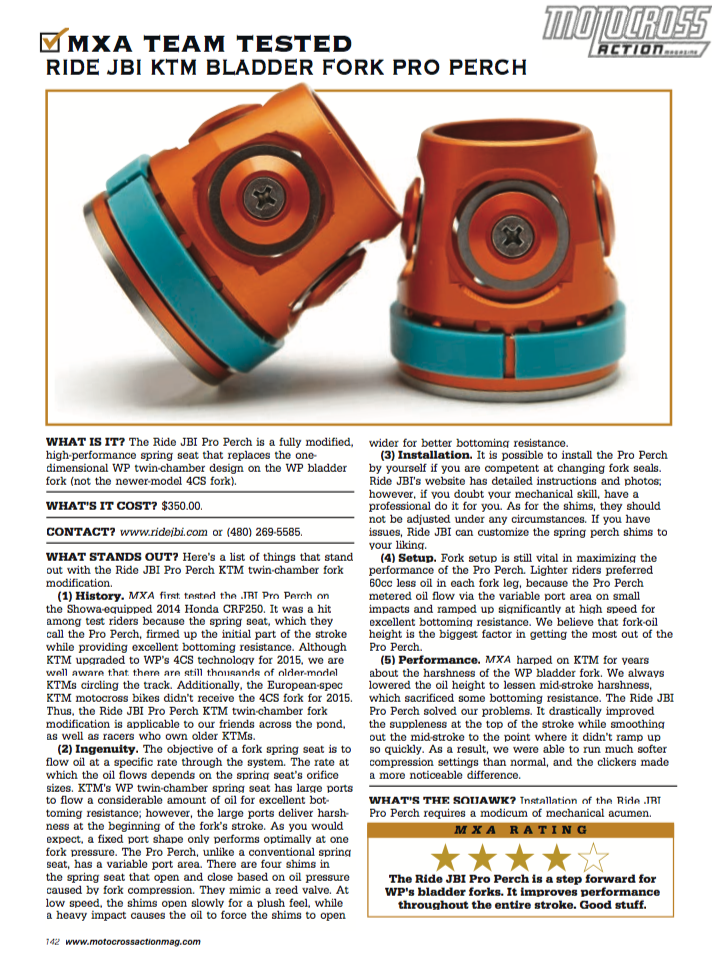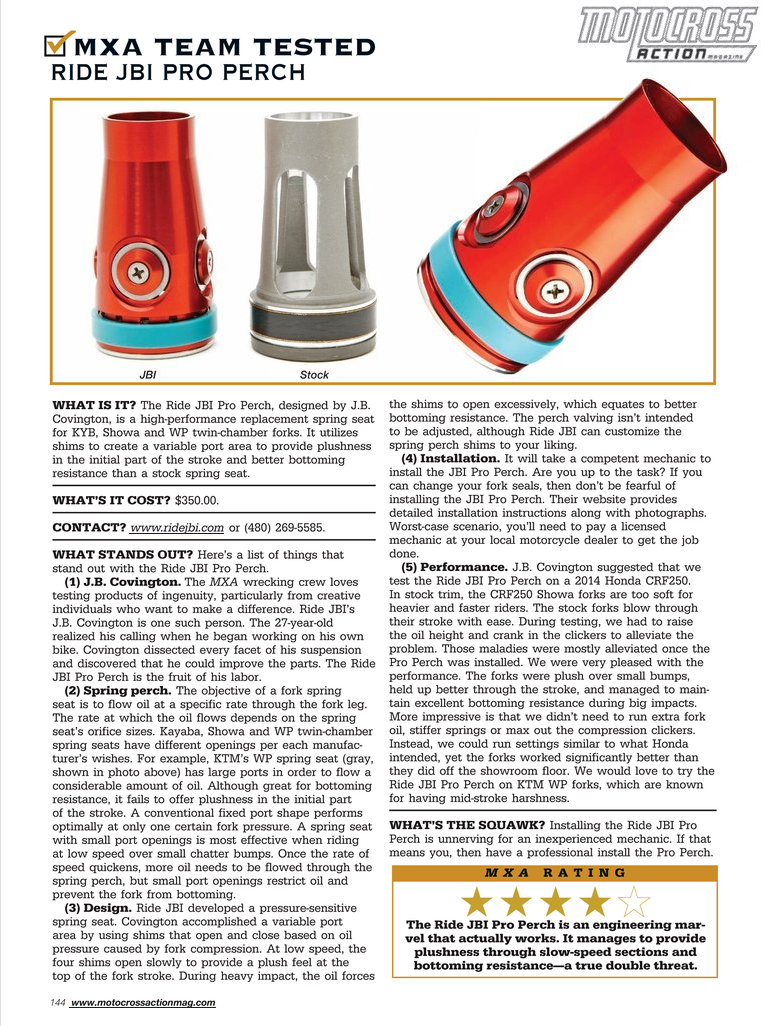 5.26.19
Motocross | Off-Road | WORCS | Enduro | Free Riding | Arenacross | Freestyle Moto
Product Videos
Find Similar Products by Tag
Product Reviews
Find Similar Products by Category
Customers also viewed