Categories
Categories
Brands
Brands
Fork Free Piston Tech Specs
Product Description
Fork Free Piston Tech Specs
Current twin chamber (closed cartridge) forks are pressurized like rear shocks, however KYB and Showa create pressure against the cartridge rod (damping shaft) using a spring instead of pressurized nitrogen gas. WP however does use a gas pressurized bladder (membrane).
The functioning difference between a KYB and Showa free piston is KYB pistons isolate the "pressure spring air" from the "outer chamber air". When the fork compresses the "outer chamber air spring" builds pressure, this pressure does not add to the free piston spring's pressure on the cartridge rod. In short, there are two separate air spring chambers, the free piston pressure spring air and the main spring outer chamber air. Rumor on the street is that KYB had to work around a Showa patent resulting in this design.
KYB Free Piston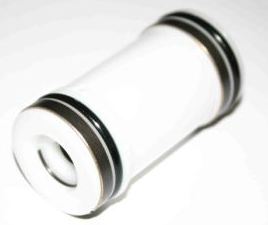 Why do KYB free pistons often break, grenade, explode, crack, shatter, fracture, split,......???
Faulty free piston seal allows piston to fill with fluid with no drain/blow-off
Unbalanced valving
Fast and/or heavy rider on suspension not setup for them
Weak plastic piston from lack of fork maintenance
What can we do to help prevent the plastic free pistons from breaking?
Verify correct spring rates are installed for heavy riders

Heavy riders on too soft (light) of springs bottom out and constantly generate high fork pressures

If valving has been modified, review the setup for being unbalanced

An overly soft basevalve and/or overly stiff midvalve

Drill a "vent" hole in the free piston
Install SDI Elite Free Piston

Insurance for our faster and heavier riders
Piston is vented (allowing for fluid to drain)
Body is made of stronger machined aluminum
Vented air design like Showa (this is good!)
Sold as individuals or pairs
Strong, better, and cheaper then stock KYB free piston!
Machined aluminum free piston body
Free piston air chamber is part of the forks outer air chamber
Able to drain fluid that may pass the seal
WP Nitrogen Bladder (Membrane)
Pressurized nitrogen instead of spring
Sealed off from outer chamber air spring
Product Reviews
Find Similar Products by Category
Customers also viewed